Giving your employees and your customers the choice to access documents online or view them in a physical format ensures they have a preference to choose what is best for their needs.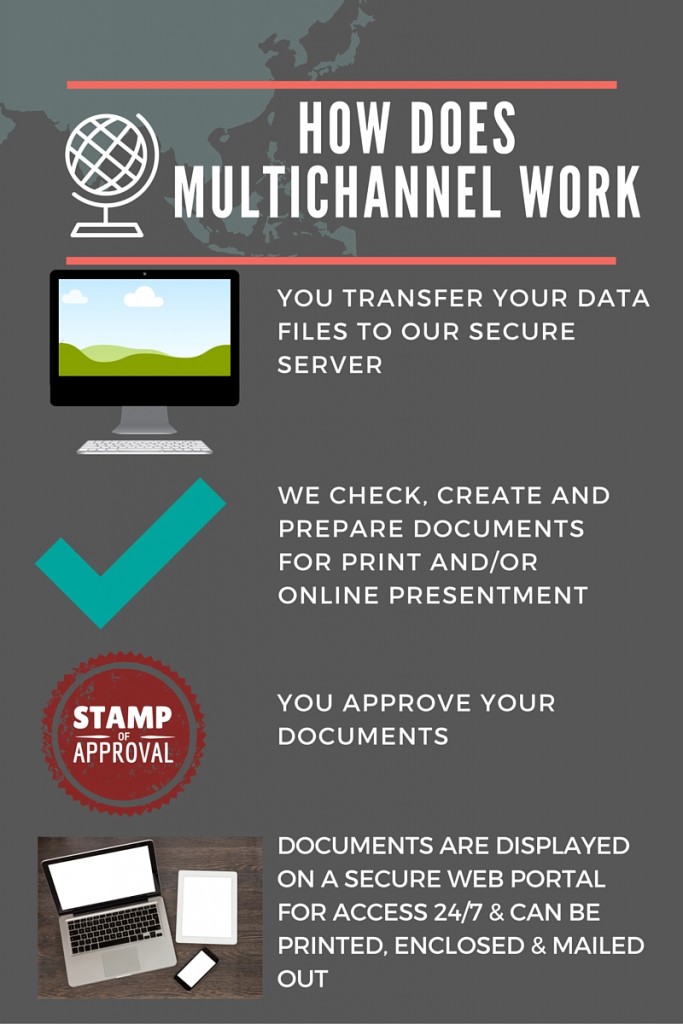 When organisations deliver multichannel communications they are moving into a complex world of communication delivery. The customer is the primary target.
How do organisations decide what to send by email, print and mail?
How do you understand what your customer's preferences are?
And, how do you integrate paper and digital so they work effectively?
How do you make sure that the document flow is secure and document storage available so the employee and the customer has a record of the document in both the paper and a digital format?
Business documents need to be accurate, timely and easy to digest, get it wrong and the invoice isn't paid or worse still the document is misplaced.
Get this wrong and you have an unhappy customer and a miserable workforce.
Communications is about making the working environment a positive one for its employees; this is reflected onto the customer.
Customers and employees want to be able to engage on the media channels they like whether it's an SMS, mobile/smartphone, call centre, post, email and web portal.
Ensuring your audience is updated and informed regularly takes time and a dedicated HR and marketing department.
Regional and remote work locations communicating with employees is a real business challenge.
Removing paper communications with access online is a surefire way of alienating your workforce and your customers.
Many employees and consumers feel more comfortable on mobile devices but it is important to be able to deliver both a paper and digital version of the same document.
65% of customers who prefer paper bills and statements would consider defecting to a competitor or would leave straightaway if a company removes that choice. 29% of customers who prefer to receive information electronically would consider moving if the option to receive paper statements was removed.
If data can be supplied for printing, that very same data can be used to generate the digital version of the same document.

How does multichannel add value to your business?
New technology allows companies to deliver transactional documents both on and offline to meet different customer preferences from one data file.
Greater flexibility in page formats accommodates the needs of the audience – quick and easy to read or detailed and long depending on whether it is a financial portfolio or a statement
High-quality colour printing means shorter runs can be personalised, targeted and relevant for the audience in combination with online communications makes it cost-effective and easy to manage
Transpromo messages can be embedded into online and offline communications promoting offers, discounts, services and reminders for customers
In our digital world, employees and customers want to access information, marketing messages, promotions, employee communications anytime, anywhere and on multiple devices.
MultiChannel delivers choice for your employees and customers allowing them to choose whether they want to be communicated to via paper or online making it critical to online business success
See how it works in the video below.
https://www.youtube.com/watch?v=DRX2_CBPsgI