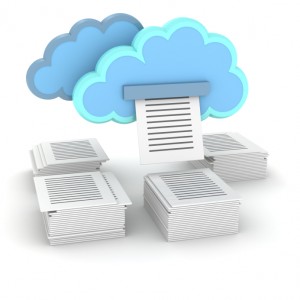 In last week's blog I talked about the rise of the use of BYOD in the workplace.
With the massive adoption of BYOD (bring your own device) and a major shift in how and where students and employees work, an enterprise mobile printing solution has to be part of an organisation's strategy to offset the increasing demands for on-the-go printing from your BYOD.
Users will at some point have a requirement to print certain documents from their iPads, tablets and smartphones and any other device and, organisations will need to be able to provide an enterprise mobile printing solution that is both secure and effective.
Enterprise printing gives employees and students the ability to be productive whether they are on the road, at home or in the office.
Employees or visitors can print to corporate printers without having to connect to a corporate network and it supports a BYOD printing environment.
Printing can then be enabled from any smartphone, tablet, laptop or PC by emailing documents to a PrinterOn enterprise-enabled printer or by using one of the mobile printing apps available for blackberry, iOS and android devices.

How does it work?
With a plethora of networks a PrinterOn enterprise solution connects all your corporate networks and allows users at remote offices to print to all locations.

Automatic printer discovery enables employees and guests to find all printers that are online and available instantly by using the PrinterOn mobile apps.

Mobile employees can print while at the office by printing to one of the PrinterOn public printing locations or print at home using the same secure printing service.

Corporate print solutions for SAP and Oracle –print from within SAP or Oracle connecting users with enterprise bar code, RFID and document printers globally
What are the benefits?
BYOD users can be authenticated and print from any device

PrinterOn discovery automatically discovers available enterprise printers through mobile apps

Print anywhere – mobile employees can print from home, office, public location back to the enterprise print infrastructure

Flexible – users can choose how they want to print – web upload, email, mobile apps or driver

Citrix® users can print from devices like iPads, android tablets to any enterprise printer using standard file>print

Mobile printing apps for iOS, android and blackberry devices

PrinterOn will work with most print management systems

All documents are encrypted with unique AES encryption

PrinterOn is designed for growth and scalability and as printing increases and mobile users are added PrinterOn enterprise can accommodate thousands of users and print devices within a single deployment

Secure – all documents are encrypted with unique AES encryption

PrinterOn enterprise can easily be integrated into existing corporate management systems such as Active Directory or LDAP based services

PrinterOn enterprise will also integrate the mobile print workflow into existing print management tracking or auditing services, allowing mobile users to access and print jobs using existing tools and services available from third  3rd 

party print management or print vendors.
Embracing the freedom to print from any device and from any location ensures that employees benefit from a fully integrated secure mobile print solution, printing what they want when they need it.