I was held to task by a marketing man who claims 'print is not as effective as digital'.
I considered my response carefully and said that this is a generalisation to criticise print and keep marketing and advertising budgets down.
But, I went onto suggest that while the statement does hold water, it's not entirely accurate.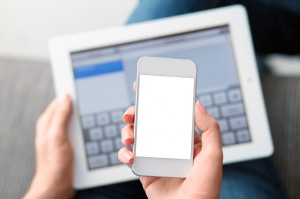 Digital lends itself to short, trivial messages which can be effective and cheaper than print because distribution and receipt of the message are instant.
For more complex information or understanding of a product or service reading it in print is easier.
It provides high resolution, better typography, colour, composition, special effects and beautiful fulfilment which cannot be delivered by digital media.
The effectiveness of print depends on the message you want to convey to your audience, what response do you want to create and your objective.
My marketing man went on to say 'even if you design and deliver a fantastic piece of physical marketing when it comes down to it, it really is a bit of print on paper isn't it?'
I showed him how to incorporate QR codes and Augmented reality into his physical print media and guess what he was blown away.
'I didn't realise that print could do all that'. 
How do I use a QR code?
QR codes create a link between print and the digital world that makes your marketing work twice as hard and it is easier to measure.
QR codes make it simple for your customers to purchase by shortening the purchasing journey.
Information is collected about their buying behaviour for future offers and discounts.
QR codes are printed on all types of printed media – advertisements, direct mail, letterheads, business cards, magazines, brochures, sales and marketing material.
Each code contains information that sends the customer straight to a specific PURL/landing page that's been designed with a marketing objective in mind.
This might be a digital newsletter, a video or social media sites like a Facebook page or product information.
A smartphone that has a QR app enables the customer to scan the code and the link sends them to a landing page.
It could be an invitation to buy, a discount code or sign up for a newsletter or subscription.
When the QR code is scanned, personal information can be saved for example where the customer is located, at what time of day did they buy and this gives you information to help understand the customer and how they buy.
QR codes improve your customer interaction by creating a dialogue with customers and statistics can be measured for future marketing objectives.
The codes can also be personalised using information supplied via a CRM and then printed directly onto any printed marketing material.
They are used to connect print with digital communication but they can contain any kind of information you want which makes them limitless in how you use them.
A QR code can be added to any type of printed collateral.
It's a great way of rewarding loyal customers by connecting with them on social media via a designated landing page where they can collect points or obtain discounts.
How do I use Augmented Reality with print marketing?
Augmented reality adds a new dimension to the world of physical print because print media is interactive.
Why send readers to a website to watch a video when they can watch it on a page?
Marketing is engaging with your audience, make the content interesting, interactive and informative and they'll stay for more.
AR is a great way to engage your audience with advertisements, your target audience is moved to want to make a purchase.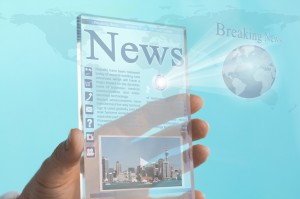 View print through an augmented reality app's viewfinder and a world of interactive digital content is available.
The advertisement or message comes alive with computer-generated video, sound or games accessed through a smartphone or tablet.
AR uses are almost limitless. It can show how a product works and gives readers access to other content.
It is a way of making print and text interactive and makes it a fun experience and invites them to purchase.
AR increases audience engagement because it can reach target audiences in new ways via mobile devices.
What makes AR even more appealing is its ability to deliver targeted advertising messages to the people who read something they are interested in.
By scanning a code or pointing their device at an image on a sign, a printed page in a magazine or brochure on a billboard, content becomes dynamic and engaging, easing the consumer along the purchasing journey.