Although I do not profess to be either a marketing or social media expert I'm often asked by our customers, how do we tailor our content marketing or proposition so it is suitable for print and online?
Whilst I know a thing or two about the importance of personalisation and the part it plays in the customer experience; ensuring your content marketing fits into the physical and digital world are two very different disciplines.
Personalisation isn't about adding a customer name at the top of an email message.
Marketing automation coupled with CRM has enabled companies to collect large amounts of data about their customers, which means marketing can deliver customised preferences that match the customer's requirements.
That's all well and good if you can afford the marketing software tools and a comprehensive CRM system but if you are an SME it's not quite so easy.
Whilst the large familiar brands want to convey the idea they are smaller and more personable so they can win more customers; the SME is wanting to achieve the opposite effect.
There is a link between businesses that are successful with branding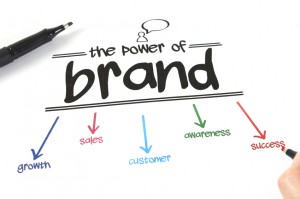 that represents the success of the company, I call it familiarity. But this takes time to build a following and an identity.
Simply adding your logo on to all your printed stationery and social media channels does not make your business stand out anymore than the next.
Pushing the same post or content marketing message out to all your social media channels is not the same as customising the message to suit each of the social media channels.
Customers will use different channels to view your marketing from the physical direct mail piece to being able to view content on social channels, on different devices or a combination of all and will want to see and read different, but, familiar messages.
Each social media channel has different characteristics and whilst consistently posting good content is important it doesn't mean it should be identical on all channels.
So how do you go about building the buzz about your business?
Here are some key points to consider.
What does your company stand for? Where do you fit in? Can you define who your audience is and where to find them? Ask yourself and your customers why do they choose you, what makes you stand out? What is the identity of your company?

What products and services do you offer and why does your current customer base choose you for these products and services?
By being able to answer the above questions will help you choose where and what social platforms you should be on to be seen and heard.
3. What drives your business? What are the company values? Are your employees also buying into the company ethos and its mission?
If the people that work in the business perceive that the company lives and breathes by what it stands for then they in turn are loyal, trust the company they work for and are genuinely more heart-felt in the way they deliver to the customers.
This becomes evident when customers talk to your employees.
The best compliment an employee can say is "this is a great place to work" in turn this makes the customer feel comfortable knowing they are working with the right supplier.
4. Understand the customers experience – look at the company through your customers eyes and ask, what are their expectations, how do you think you deliver overall?
If an issue occurs all the customer remembers is the problem they had with your company, late delivery, the support person who was unhelpful. How well you resolve the customer issue shows your true company values and sets you apart from the rest.
5. Your content should be consistent with the same tone throughout, that way your customers identify and recognise that it's your company –  from the marketing piece delivered to their door through to the social media channels. Keep your messages different and entertaining.
6. Make an impression and be distinctive – carve out your own identity it might be fun and light hearted or serious and measured but above all keep the tone and message consistent with the company profile.
That way customers don't get confused and think it's another company.
7. Change content marketing across channels –  it's easier to post the same message to every social media channel but even harder to know which one works best.
Understanding how each of the platforms work and what they can do is a step forward in establishing if you are likely to find your customer there. For example we use twitter to promote posts, ideas, quotes and industry news.
8. Choose the right channels for customer contact – twitter might be great for sharing news and reviews about your products and services and other content but, YouTube might be ideal for you to demonstrate a product. Pinterest is a great place to organise boards that showcase your imagery – photos, blogs, interests.
9. Think about how you communicate your brand – You might have a product or service that is not mainstream in other words not something you'd talk about over breakfast but by getting creative and promoting a story about how your product/service helped an organisation save time/money etc is a fun way of showcasing how your product works.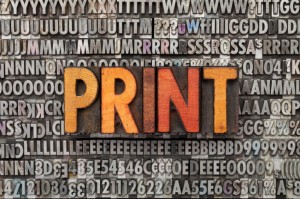 10. Make your printed marketing piece the first customer touch point. Customise and personalise it according to the customer and relate it to the product/service you are promoting. Use context (reasonably) imagery, and give them a reason to follow you on social media sites by making your print more interactive using QR codes and AR. (Augmented Reality)
Customising content across social channels for better response takes time and doesn't happen overnight.
Consistency is important for an integrated marketing campaign right through from print to social.
Being able to deliver useful marketing messages consistently that delivers on its values and promises, guarantees to win customers, but there is a warning, it doesn't happen overnight.
What do you do to get noticed?
How do you market your products and services and how well does it work for you?
Share with us what has worked and what hasn't.
Next time: In my next post how to use print more effectively?