I was invited by one of Digital Print Management's suppliers, to visit Google HQ in London recently to experience google's  'Drive for work" which is superseding google apps for work. 
The purpose behind google's re-positioning of this product is to make it more personal, accessible and more mobile for organisations.
There were a number of key factors that came out of the conference:-
This year alone it is estimated that 1.2 billion smartphones will be in worldwide use
Mobile video will increase exponentially
Mobile e-commerce is set to go even more ballistic
Mobile responsive websites are key to customer engagement
Encrypted BYOD which I've talked about will be ever more prevalent in the workplace
During the day I was impressed by the various presentations and videos, an american powerhouse company delivering great content.
However, there was one thing that resonated with me during the day and that was the use of the word 'digital'. 
A digital business, a digital culture, a digital brand.
According to Google, digital and mobile are key to the future success of any business.
Google put forward the scenario that companies and brands should be thinking in terms of being a 'digital' organisation or business.
A digital business involves creating digital content using a communications strategy across all channels to excite the consumer along his/her journey to purchasing.
Organisations no longer sell goods, or services or products they are delivering meaningful digital content, subliminal messages to awaken the customer across a variety of channels as a way of planting the seed for purchase or opening the customers eyes to a problem they didn't know they had.
I see a communications strategy looking something like this and should comprise of the following five components. This makes it easier to decide which and how many touch points you will use to deliver your content.
a creative strategy – the ideas bit

a media strategy – what media – print, social, video, TV, adverts (channels and platforms)

content strategy – what are you going to talk about, what are you trying to tell/sell your audience

a digital strategy – how do you deliver it and where

a mobile strategy – having mobile responsive websites, being able to view content across multiple devices
None of the above will be successful if used in isolation and simply calling it a "communications strategy" is too big a deal to work with.
Successful digital companies embrace new trends and innovation comes out of the need to meet and go beyond customer expectations.
These companies are successful because they no longer perceive themselves as a maker or provider of X but have repositioned themselves as a digital company.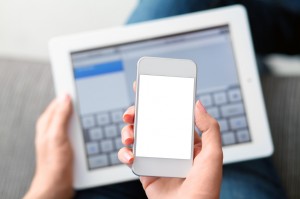 An organisation able to deliver their brand, content and marketing message digitally.
In google's words Digital brand = Digital culture = Digital success I would add at the end of that =  multi-channel/media communications.
These companies are optimising digital platforms for marketing success.
Marketing in our digital world has changed. Advertisements in the major newspapers, leaflet drops in local and national newspapers, adverts on billboards and commercials on TV were how your brand and message was delivered in the past.
Whilst the above retains it's place in the stratosphere getting noticed by your audience is increasingly more difficult.
How do you position yourself to be in the right place at the right time in front of the right people?
In my last post  I talked about how hybrid mail along with content marketing can be used in conjunction with digital marketing to deliver your marketing efforts.
Using a multi-channel strategy combining digital services with print to communicate the same message but delivered in different ways is an effective way of staying in front of your audience.
An organization that is responsive to customer needs and provides easy access to a variety of channels can differentiate itself in an otherwise crowded field.
Organisations that do create a seamless experience and integrate different forms of technology into its marketing effort can gain customer loyalty.
We've become an increasingly mobile workforce, 68% of adults in the UK access the internet on the go (Office of National Statistics) the statistics would appear to stack up. Looking at DPMs analytics clearly shows that more people visit us via some form of mobile device.
In our 24/7 connected world business owners are accessing information around the clock from multiple devices and locations.
Multi-channel communications are about delivering relevant and timely information to your customers in an engaging way giving them the opportunity to interact with you and your brand. It is impossible to predict which channel will be used when so making your content available on all channels is a must.
Being able to co-ordinate a print and digital campaign simultaneously is a great way of targeting your audience with personalised communications.
In my next post 5 tips for digital multi-channel marketing success.