Businesses rely heavily on the Royal Mail in spite of the internet and the availability of sending documents electronically.
The UK Royal Mail increased their charges from April 2013 and businesses who use a multi-distribution method for delivery of their customer letters such as post and electronic delivery will no doubt have felt the impact of the postage costs on their bottom-line.
Despite the increase and depending on what volumes you mail out in a month there are 3 ways that can help you reduce the expenditure.
Using a print and mailing service provider offers a number of tangible benefits that will save you time and money. You can read more about how the service works here.
Use DSA (downstream access)
DSA is the term used to describe mail which has been collected and distributed by a competitor of the Royal Mail but is delivered into the Royal Mail centres for final processing in to local offices.
The cost savings per envelope depending on weight can be substantial and savings can be up to 13p per envelope using 2nd class mail. (Price will vary subject to weight)
Good Database Management
By ensuring that your data is current and reliable removes the issue of duplication.
Many companies over look the importance of recording their customers address and contact details and this results in duplicated addresses and most likely duplicated invoices arriving on the customers door step.
Maintaing your billing database (clicking on the link here will explain why data cleansing is important for your business) on a regular basis shows best practice and will save time and money and it doesn't have to be a costly exercise.
A print and mailing service provider can check for errors and duplications using de-duping software.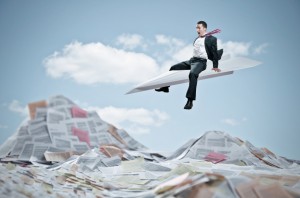 Address Inaccuracies
Sending invoices or statements to an incorrect address or defunct address can be costly!
Not only does the invoice go unpaid but the invoice then has to be re-printed and mailed out again effectively doubling your postage charge and increasing the processing and print time.
Incomplete addresses result in items being undelivered unless there is a return address on the envelope which will ensure the item is forwarded to the originator of the envelope.
But incorrectly or incomplete addresses means that the invoices have to be painstakingly checked and re-issued correctly. This takes up valuable company resources and slows cash collection too.
If you are faced with the challenge of getting your documents out on time there is an alternative solution called hybrid mail. If you click here you can find out more about what the service can do to speed up the mailing out process.
If you call Digital Print Management on 01234-271156 and ask for Caroline or drop us your email address

here

 one of expert advisors will talk it through with you. What best suits your needs when it comes to mailing out your documents.