Print management is the process of outsourcing your print including office and business printing to a print management specialist who will project manage your printing from proofing to finishing, mailing, stocking and fulfilment.
Print management is complex depending on the work involved and is often bewildering to organisations. The internet has made it easier for companies to source printing directly but without an understanding of print and knowledge of what their project requires could mean you spend more than you need to.
Introducing print management.
There is a myriad of print management companies their services differ so it is important to detail what your project entails before you start searching for a print management company.
If you want to outsource your payslips then Digital Print Management offers that service and have the expert knowledge to guide you through the process.
Print management is a mixture of many disciplines from procurement, storage, fulfilment, stock control and distribution of printed material designed to provide cost savings while delivering a managed print solution.
Print management is also about managing the purchase process.
Many companies are deluged with paper, businesses overprint, overstock, over-order print items eighty per cent of UK businesses don't really know what their print is costing them.
There are real savings to be had by working with an independent print management company. 30% is a real possibility depending on the nature of the work. Why then aren't companies not beating down the doors of print managers?
Print is a diverse product it covers anything from a business card to a printed USB stick, mouse mat, cardboard boxes through to the supply of office furniture/equipment to web design, e-commerce and e-marketing such is the diversification of a print manager's toolbox.
Print is purchased from one department to another with no autonomy forcing the cost of office print upwards, therefore the true cost of print is absorbed by different cost centres.
Print is a diverse product
Although print is perceived as a necessary evil rather than a business process that can or should be improved it is overlooked in terms of tangible benefits it offers a business.
In my experience, many companies continue to define print as business cards, letterheadings and company brochures but it is more.
It is an area of a business that is perfect for outsourcing but often it is overlooked because companies don't have the time, expertise and knowledge to do so.
Print falls into the ownerless category and ordering daily and discreetly in company departments is a common occurrence; with multiple suppliers, inconsistent quality and often shortfalls in critical printing such as a company's transactional documents.
This is where a print management company comes in.
A Print Management's business is print and we know about all things print.
It is a specialist discipline in sourcing and providing bespoke print solutions and printed matter for the customer.
Your core business is providing a service or product not printing so why get involved in print when a print management company can facilitate all your print requirements including project management saving time and money!
Many businesses will benefit from some form of managed print solutions because they don't possess the knowledge, the time to develop the internal infrastructure to physically manage the purchasing, lack resources and the supplier base that a print manager will have developed and cultivated through many years of trading.
4 Things a Print Management company will do to assist a company's need to centralise print purchasing:
1. Analyse and carry out a print audit of all printed items used by the company
2. Understand the paper flow i.e. who orders what, when and why, how is the product used
3. Review the supplier base to ascertain with a view to providing a more streamlined and sustainable approach to managing print
4. A detailed proposal which will provide an effective, more streamlined process which in turn will show a reduction in total print spend
Top Tips to assist companies with print outsourcing
1. Engage with a proven print management company that can bring the expertise you are looking for specifically whether it is print management, payroll or e-billing.
2. Identify the key personnel internally who will run the process; who will oversee compliance and conformity
3. Identify key areas of spend (this will have been highlighted during a print audit by the print manager) and this should be across all departments, payroll, marketing, credit/billing.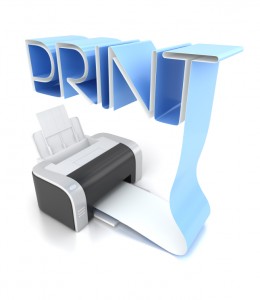 4. Keep any design/creativity spend separate from print i.e. if you work with a design agency that has a completely different skill set required by your company
5. The business needs to be ready to face change management, there will undoubtedly be some internal resistance to outsourcing print by being transparent and open will cause less confusion and resistance from employees
6. If the costs regarding the current print spend are unquantifiable then don't be overly concerned; the Print Manager will start to create relevant management information on stock, print type and spend.
The print manager will be responsible for giving you up to the minute information on print spend and within 3-6 months you will have a bank of data to work from to help you set a more concrete print budget for the next 6 months.
What do you think? How are you managing your print costs? Do you know how much your organisation spends on print each year?