I've been working in the print industry in some shape or form for over 20 years and witnessed the migration from electronic typewriters to PC's.
Emailing has become the staple method of communication, CRM systems allow us to manage our communications and how we interface with customers, the rise of social media another way of promoting yourself and your company's brand.
These technological developments have impacted our working lives radically changing the way we work, how we interact with customers and as a result the way we use and interact with paper has also changed.

Or has it?
The lifecycle of a document use to be very simple.
A document would be created as a form or letter, it would be saved, printed and posted.
The letter would then be stored in a drawer or in an appropriately labelled file dependent on how often it would be accessed or, filed into obscurity until such times when you had a spare few minutes to go through your filing cabinets or drawers.
When information from the document was needed we'd hunt around for it, not always an easy task to remember where you filed it and which drawer you relegated that letter.
Once retrieved from storage it was copied if needed but this bit of paper involved a human interaction.
Finally, when the document was finished with, it was filed and returned to storage. A process repeated many times up and down organisations in the UK.
The problem with this filing method is it is very slow, prone to errors resulting in many documents being misappropriated or misfiled.
In the last ten years electronic document management has exponentially changed our working life's. It has changed the way we interact and use paper. No longer perceived as a long term medium, human interaction with paper has changed from being a permanent record to a transient or short term interaction.
Paper storage hasn't completely been relegated to the annals of history. It is still required in regulated industries and government but this is fast changing too as many of the permanent records of information are now being stored electronically!
You'd expect that with such a major shift to electronic document management paper work flows would be drastically reduced.
Statistics indicate paper usage is on the decline. The evolution of paper from a permanent record to a short-term bit of information has only changed how paper is used – not how much!
The shift has swung to documents being printed far more times from its electronic master when compared to antiquated filing systems.
Why is this happening?
Because there is still a preference for human beings to interact with paper or to interact with the information that is on the paper.
Think about how we use paper daily. We print the document, use it and then toss it in the bin when finished and then the next time you need it, you guessed it, you print it again repeating the process.
I don't believe anyone can wholeheartedly put their hand up in the air and say they've never done it, we all do it daily unconsciously almost. It is a repeatable process.
The evolution of smartphones, tablets and the need to reference information sometimes makes it easier to work with paper!
Let me quickly illustrate, I'm writing this blog and am working from material and articles that I've researched and annotated. If I have two screens easy but its actually quite difficult to switch between what I am writing and what I am reading. Yes, I know I can minimise but its still not that easy.
Even with advent of great mobile apps like Goodreader, webnotes all of which are useful note annotators, it is just not the same as working from the printed article!
Where you can scribble, hi-light and make notes using a pen!
Which validates the statement I made above, people like interacting with the information on paper. The only difference is the way in which we interact with paper, it is very different than we did say twenty years ago!
With most business processes still reliant on paper output for records, transactions, reference or simply for better readability the best solution is to print smarter with print management and apply print policies to ensure that when a document is printed it is printed securely and on the most cost effective device.
Employing managed print services (MPS) will track print usage enable, duplex printing rather than simplex printing when needed, print mono rather than colour, encourage users to be made aware of what they are printing and why they are printing it, how many times they've printed the same document and how much its costing the organisation.
MPS will also give users the relevant tools to ensure they make the right printing decisions such as pop up alerts that recommend a different printer for the job they are printing.
Paper as a permanent record held in storage is declining, paper as a substrate isn't going anywhere.
The use of paper can be better managed with achievable cost, security and improved workflow results.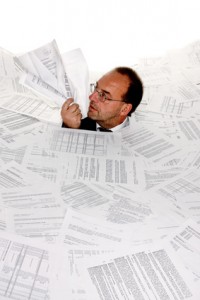 What do you think?
Do you have a paperless office? If so how have you achieved it?
Is your office under siege with paper?
Would you like to implement a reduced print policy?
What about employees? Do you have a no print policy but find it difficult for staff to employ your no print policy?
Share your thoughts please or post a comment.
We'd love to hear what you think!
If you would like more information click here
You can find us on twitter, Pinterest and facebook or you can connect with us on linkedin and Google+.